Branding includes the use of labels. It facilitates simpler object recognition. Choosing the appropriate label is essential in ensuring that the label performs its intended function. Given their low cost and potential for big savings, paper labels might be quite appealing, but choosing alternatives that are more capable of carrying out the task can be more advantageous to your company than you would realize.
There are labels, for instance, that are created for business applications or specific environmental factors. Not all types of label materials are appropriate for all applications. Each material has certain qualities that assure effectiveness for a specific purpose or help you achieve your desired design.
What Materials Are Used to Make a Sticker and Label?
Here we list the most popular types of sticker and label materials.
This kind of material is appropriate for outdoor labelling. The majority of high-quality industrial vinyl label materials provide 9 to 11 years of UV radiation protection. Additionally, labels created from these materials are resistant to chemicals and the weather. The material's outstanding flexibility makes it perfect for use on rivets as well as surfaces with abrupt curves. Pipeline labels, rental equipment, fleet decals, and cable tray labels are common applications for vinyl labels.
There are numerous types and shapes of polyester labels available. A metalized appearance, which delivers a chrome finish or mirror-like perfection, is the most popular option. It can occasionally be mistaken for stainless steel. This material is perfect for marking control pipes and panels and may be used both indoors and outdoors. The majority of polyester labels come with a long-lasting adhesive and can readily resist challenging working and weather conditions.
These labels offer exceptional solvent resistance and are regarded as the best vinyl label replacements. Compared to polyester labels, polypropylene labels are cheaper and have better clarity. These labels can be identified by their colours, coatings, and adhesives.
These labels are made entirely of recycled materials, as suggested by their name. It is made of #55 paper, which is the best choice if an earthy effect is required. Kraft labels are not suitable for laminating and are therefore neither water nor oil-resistant. These labels are perfect for use with machinery. The most widely used recycled label types nowadays are Kraft and Vellum labels.
These labels, which are perfect for wine or spirit labels, are essentially satin acetate cloth labels. Your product packaging will gain a lovely new depth thanks to satin labels. It is also perfect for gift-giving throughout the holidays.
Many fluorescent and foil paper labels come in shades of red, pink, orange, and green. These labels often serve as warning devices for the public.
Labels made of foil are available in dull, bright, silver, or gold. These labels are often used as food or holiday stickers.
Types of Finish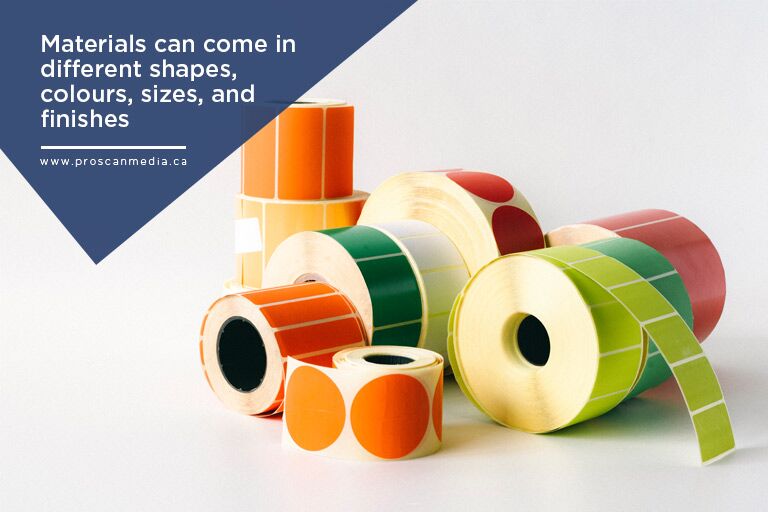 In addition to the types of materials used, labels are also distinguished according to their type of finish.
They stop light from passing through them. They are perfect for concealing errors, updating label information, recycling outdated materials or packaging, hiding pre-existing designs, and other purposes.
This gives a smooth coating for a bright and glossy finish. The majority of glossy labels are made of paper, which increases the paper's ability to resist dust and moisture. They are ideal for special occasions or events, including company brochures. It is also suitable for items that will be kept in freezers, bathrooms, and other harsh situations.
Labels made of a type of sticky paper that are waterproof are most frequently found in kitchen and bathroom products, including in meals, drinks, and cosmetics. They should also be great for outdoor labelling on items including sports equipment, garden centres, signs, and more.
A matte finish makes labels easier to read. They are popular among businesses for branding any product, particularly fast-moving products, stationery, and consumables.
A splashproof finish is an excellent alternative for waterproof materials if you want cheaper options, but it provides limited protection against dirt and water damage. Most are only usable with handwriting or laser printers.
Kinds of Sticker Formats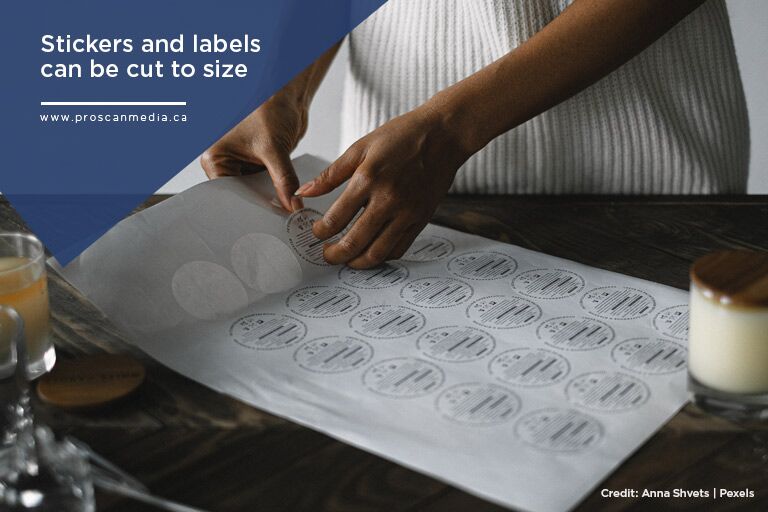 After you select the best material to make your sticker, decide whether you want to print your stickers individually, on a roll, or on a sheet.
Cut-to-size or die-cut stickers are made by individually laser-cutting them to the design's outlines. When giving away stickers to clients or event attendees, this style works best for small orders. Additionally, it is the least expensive choice.
Like die-cut stickers, kiss-cut stickers are also individually cut and distributed in stacks. The backing is unaltered, which makes it the greatest choice for patterns with intricate shapes. Some printing businesses accommodate printing projects by adding brand names or contact information to the back.
This format is ideal for large orders where hand application of the stickers is not necessary. Usually, there must be at least 250 stickers ordered. Roll stickers are printed on a continuous sheet looped around a small cardboard core that fits most label dispensers.
For customers who want to order stickers in bulk but do not have a label dispenser to speed up application, sticker sheets or pages are the ideal options. This format allows you to fit numerous designs into a single spread and is the easiest to manage and organize.
Let us wrap up by talking about how to pick the best label material for your printer. Some labels are better suited for specific printer types, and not all printers can accommodate various label materials. Although most label sheets are compatible with both laser and inkjet printers, some are made specifically for one type of printer and cannot be used with another. Check your printer's specifications and suggested label printing requirements as different printers support various label sizes, shapes, and thicknesses of sticker paper.
If you're looking for label printing in Toronto, ProScan Media offers to help you create high-quality custom labels for printing. Call now at (289) 372-3043 for more inquiries.